The is a murphy wall bed desinged with a locker theme. This one has the Louisiana State University (LSU) theme but any team is avaliable. The three center doors are false and come down with the bed.
Price as shown full size: $2915 (Queen $2965)
Price is for the main picture in the gallery to the right. Mouse over other pictures for additional pricing or discription
LSU Murphy Bed Closed
The three false door panels come down to use the bed.
LSU Murphy Open
The bed shown open and expose the scoreboard headboard.
LSU Headboard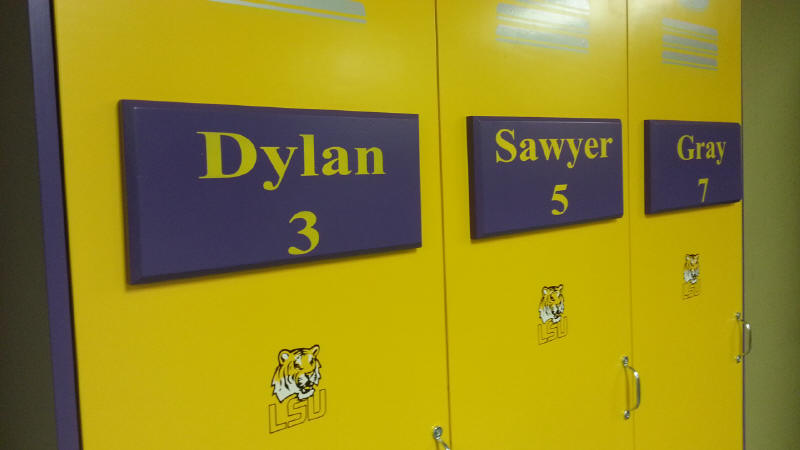 Locker Grapics
Close up of the locker graphics
LSU Headboard
Close up of the headboard.
Headboard Options
Not LSU, but another option, using logo, for the headboard
Headboard Option
Not LSU, but showing another option. Just do a flat headboard with no logo or scoreboard.
Yankee Murphy with Bookcases
Not LSU but added this picture to show what it may look like with bookcases.
Here is a break-down of the price
Size: 85 1/4"h x 59 1/2"w x 16"d Projection 85"
Base price in full $1600
finish upcharge $590 ($490 standard finish + $50/color custom color charge)
Locker Graphics $300 (3 panel face)
Scoreboard headboard $200
Murphy bed lights system $225
As shown $2915 (Queen $2965)
Extras
Bookcases 19" ($600 each) $1200 (all shelves)(21" for Queen)
Add drawers in bookcase $45 each (suggest 2 in each)
Custom Color $50
Since we are totally custom, next step is to confirm the price.
LSU Locker Murphy
Take note of the style and features you may want.
Colors: LSU Purple and Gold (both custom colors)
Other stock colors includ: Baseball Blue, Baseball Green, White, Black, and Gray
Custom Colors Availiable. We have all the team colors. If you would like a specific color for your team there will be a $50/color, color charge.
Now available in King
Add $400 to any queen price